The Kubu Smart Lock was the true 'star' of the show at its prestigious launch at Birmingham's Planetarium back in May, but what exactly is it, how can it help secure your home and why is it available with our market-leading composite doors from Solidor?
What is a Kubu Smart Lock?
How many times have you thought…have I locked my door? We've all been there!
The Kubu Smart Lock intelligently combines state-of-the-art technology with the latest door hardware, to create an innovative locking system that alerts homeowners via Smartphone app to external doors that have been left unlocked.
How does Kubu work?
Using smart, simple and affordable electronic hardware, with a Kubu Smart Lock the way you open your door remains the same; with a key. Once this exciting hardware has been fitted to the doors you wish to monitor and connected to your own module and hub, you're ready to access the following benefits:
The UK's largest hooks and centre deadbolt (25mm)
PAS 24 security performance testing
Secured By Design accreditation
A perimeter alert feature that prevents you from leaving the house unlocked
Amazon Alexa compatibility; ask if the door is locked!
Notification scheduling, to double-check your home is secure at certain times of day
The option to share door status' with up to four other people
Monitor every turn of a key with detailed monthly door reports
Quick and easy installation
Low-energy, long-life battery operation
The Kubu Security Promise; A 10-year security guarantee & mechanical warranty, so in the improbable event of burglary due to a lock component failure, Kubu will provide a refund up to £1,000 on your insurance excess.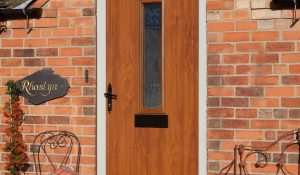 Smart composite doors from Premier Windows
Your security is incredibly important to us, which is why we now offer cutting-edge Kubu-equipped composite doors. Proactively combining the Solidor composite with Kubu, you'll never have to worry if your door is unlocked again.
Kubu Smart Lock Registered Installers Dorset
Turning your Weymouth home into a smart home couldn't be simpler! With Kubu and Premier Windows, say goodbye to uncertainty and hello to peace-of-mind. Design your dream door online with our interactive composite door designer and then get a comprehensive quote – it's that simple!
Related to this topic: 10 reasons to upgrade your front door to a composite door this year