Winter is a time for winding down and enjoying festive celebrations with loved ones. So home security is probably the last thing on your mind. But are you aware that burglary insurance claims spike by 34% throughout the winter months? Combined with the fact that a quarter of households don't have any security in place at all, whilst the average UK household spent £747 on Christmas presents last year, the Christmas holidays are an incredibly tempting prospect for opportunist burglars on the prowl.
No-one wants their Christmas and New Year celebrations ruined by unwanted guests. So, we've come up with 5 top tips to keep your home 'safe as houses' for many more winters to come.
1. Take a step back
Firstly, go outside and try to look at your home from an intruder's point of view. Ask yourself:
Are any of your valuables in clear view?
Does your home have any vulnerable access points?
Are there any places to hide? E.g. overgrown bushes/dark corners
Are there any ladders or tools left out?
Are there any visible keys left in window or door locks?
By looking at your home in a different light, you will begin to spot more and more weaknesses that require your attention. Start by removing clearly visible valuables and trimming back bushes. You could even lay gravel around the perimeter, to deter intruders further. Prevention is better than cure, after all.
2. A smart home is a safe home
Living in an age of diverse technological advancement, there is a range of benefits that smart home technology can offer you and your family. From complete smart home security systems, right through to video doorbells and Kubu smart locks that prevent you from leaving your doors unlocked. Smart home devices are there to make your life easier, so why not give them a go?
3. Intelligent lighting
Motion-sensitive lighting is still an effective way to put off burglars. It also alerts your neighbours to potential intruders in the neighbourhood. Indoor light timers should also be considered, to give the impression that you're in; especially if you're going away over the Christmas period.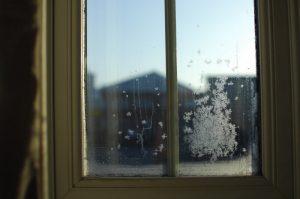 4. Repair window and door locks
74% of thieves gain access through the front door, whilst as much as a third of UK homeowners don't bother to double lock their back doors at all. So, it's a solid investment to get faulty window and door locks repaired. Premier Windows can help extend the life of your windows and doors thanks to our high-quality double glazing repairs service, which includes handles, letterboxes and hinges as well as locks.
5. Upgrade your glazing
If your windows or doors are single glazed, it's only a matter of time before thieves' home-in on your property. Upgrading to secure double glazing or ultra-protective triple glazing will discourage the most determined of intruders, as well as retaining valuable heat throughout the coldest months of the year.
Winter-ready home improvements Weymouth
From high-performance lock replacements right through to a full house of new windows and doors, we're confident we have what it takes to satisfy your security needs and far exceed your renovation expectations. Get a quote or contact the Premier Windows team today.