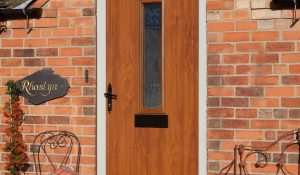 What does your front door say about you? It's a good question, that Britain's favourite composite door manufacturer asked the nation over the Christmas period. Composite doors have become increasingly popular additions to Weymouth and Dorset homes in recent years, allow us to explain why.
1. Attractive Aesthetics
First of all, it certainly can't be denied that composite doors are incredibly eye-catching. From sophisticated subtlety to brilliantly bold, their super glossy GRP coating combined with an exquisite range of door furniture and a fine selection of decorative glass options provide Dorset homeowners with the front door of their dreams.
2. Composite doors provide exceptional levels of security
With an astonishing range of exceptional security features, the most notable is its prestigious Secured by Design police initiative certification & the impenetrable Ultion lock fitted as standard when you choose Premier Windows to upgrade your Dorset home. Watch this quick video to understand what makes a composite door from Solidor stand out from the crowd, when it comes to securing your house against the keenest of burglars.
3. Phenomenal strength
Solidor truly lives up to its name, featuring a unique 48mm solid timber core which is impressively 10% thicker than many of our competitor's front door offerings. With an incredibly durable structure and robust frame, its impact resistant skin handles the harshest of weather conditions with ease and finesse.
4. Composite doors offer unparalleled layers of thermal insulation
Building regulations for front doors currently state, including the glass and the frame, that replacement front doors must achieve an overall U-value of 1.8 W/m² or less to comply. Thanks to their multi-layered composition and the inclusion of EcoClear® glazing as standard, the Solidor timber core impressively stops heat escaping and actually reduces household bills in the long run, boasting a maximum U-Value of 1.5 W/m².
5. Mobility friendly
Fully able to accommodate homeowners from all walks of life, Solidor composite doors cover disability access with a low aluminium threshold option.
6. The most customisable composite doors around
One of the main reasons we are a dedicated Solidor supplier is because of their remarkable range of styles, colours, effects and accessories available. Providing the market's largest range of luxury, premium, standard and dual-colour finishes, covering classic to eclectic and traditional to contemporary, with a Solidor composite you truly have the power to create something as unique as you are.
7. Low maintenance
Unlike timber, our composite doors do not require repainting and proactively resist troublesome front door issues such as cracking, corrosion, warping and fading. Composite door maintenance is incredibly minimal – retaining its beauty with a quick wipe down with a soft sponge and warm soapy water every couple of months. Be careful to avoid harsh chemicals or solvents, which can potentially damage the composite doors special surface. Locks, handles and hinges only need to be lubricated once or twice a year, to maintain the smooth and sleek operation expected of composite doors.
8. Composite doors last longer than uPVC front doors
Guaranteed for 10 years, our composite doors are a worthwhile investment that offers Dorset homeowners a notable (average) lifespan of 25-35 years.
9. Enhanced sound barrier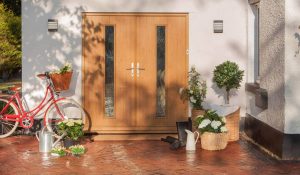 When you upgrade to a composite door, you are also upgrading your homes sound barrier. Immediately noticeable, thanks to its multi-layered structure and unique 48mm solid timber core, sound transfer is considerably reduced with a Solidor composite door.
10. Environmentally friendly
With more consumers taking notice of how environmentally friendly their home improvements are, it's also worth mentioning that Solidor is a company that's committed to bettering the world we all live in. Making sure each composite door is 100% fully recyclable, as not all composite doors can be recycled, they're also 'Made in Great Britain' which actively minimises the environmental impact.
Increase your Dorset kerb appeal this year with a charismatic composite door
With a colour and style to suit every season and all tastes, design your dream door online with our interactive composite door designer or contact a Premier Windows professional to discuss a way forward to transform your Dorset home in 2019.