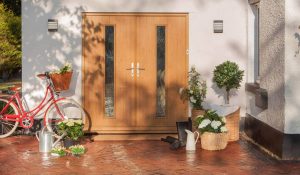 Enhancing many types of property throughout Weymouth and Dorset, an increasing number of homeowners in the area are being drawn to the striking aesthetics that double doors can deliver. Especially popular with larger homes that lack kerb appeal, double door installations also allow homeowners to enjoy a heightened sense of security, thermal efficiency and space.
So, if you're thinking about improving your Dorset home with a set of high-performance double doors, we've taken the time to answer a few frequently asked questions below.
What size is a double door?
The International Residential Code (IRC) states that the standard height of a primary double door must be no less than 6' 6" tall (80 inches or 2032mm). Although there are no restrictions on the width of a double door, common double door sizes in England and Wales range include;
60" (2 x 30")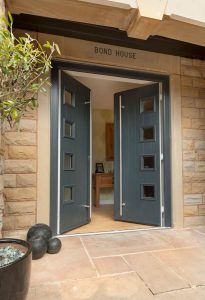 64" (2 x 32")
72" (2 x 36")
82" (2 x 41")
Double door sizes will also vary, depending on whether sidelight panels are required. Bespoke double doors are a viable option for doorways that have specific requirements.
What's the difference between French doors and double doors?
The main difference between French doors and exterior double doors is that French doors typically feature large panes of glass, ideal for patio entrances that require classic aesthetics alongside swathes of energy-efficient glass. Whereas exterior front doors are either solid or feature smaller glass accents, which can be enhanced further with illuminating sidelights and a transom above the door to create a welcoming naturally lit entrance and hallway.
Double door materials – which is best?
The style of your home will generally dictate what the most suitable front door material is for you, e.g.
One of the main reasons behind our dedicated Solidor supplier status is down to the fact that composite doors are so versatile, attractive and secure; making them the perfect material to create double doors with. Able to transform a dull front door into a gorgeous focal point, double doors deliver a memorable entranceway, whilst expertly accentuating your homes' unique architectural features – especially those with generous interior corridors.
Even better, composite double doors are available in a vast array of low maintenance styles, colours and effects, which provides the freedom to create timeless wood-effect double doors right through to high-tech, contemporary double doors and everything else in between.
Make an entrance with stunning composite double doors from Premier Windows, Dorset
Inspired by the images above? Begin your very own double door project by simply getting a quote or contacting our committed customer service team to discuss your options further.
Related to this post:
10 reasons to upgrade your front door to a composite door this year